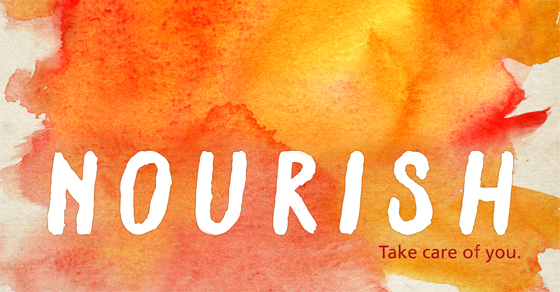 The New Year always provides us with an opportunity to reflect and consider what aspects of our lives are really working well for us and which areas we might want to consider 'tweaking' a bit. It's a time to rest and recover from the busy holiday season, and is a time when people like to start new habits, often in the form of resolutions. Our theme at the Red Apron this January is 'Nourish Yourself '. We like to focus our thinking and discussions on positive and healthful actions. In that spirit, we are dedicating January to all things that nourish – your body, your mind, your soul. What that means for our menus is a month of healthy meals that are full of nutrients, and lighter on the system and the planet, including a full Vegan meal every Wednesday throughout the month.
We have also stocked our shelves with inspirational books, including one of my personal favourites – 'Real Food – What to Eat & Why' by author Nina Planck. I think this is an important book that encourages readers to EAT – not diet. Full to the brim of interesting, informative and sometimes disturbing facts, this book encourages heathy eating of whole foods, sourced carefully for the purpose of nourishing the body, the local economy and the environment. Definitely worth a read!

Another staff favourite on our shelves is 'Clean Soups – Simple, Nourishing Recipes for Health and Vitality' by author, chef and wellness leader Rebecca Katz. Full of beautiful photos and recipes, this book has an entire chapter dedicated to broths, especially bone broths, which we now know are incredibly healthful and help improve bone strength, skin elasticity and so much more. There is nothing like a warm bowl of soup at the end of a cold day to make you feel loved.

The third book I want to suggest is 'Naturally Nourished – healthy delicious meals made with everyday ingredients' by holistic nutritionist and writer, Sarah Britton. Even as an omnivore, I find myself inspired by Vegan cookbooks. In my personal efforts to eat well, I find the more vegetables and and legumes that I can incorporate into my daily meals, the better I feel. This cookbook will also introduce you to some ingredients that you may not be familiar with – like using nut and seed butters as an ingredient in dressings and sauces – for incredible flavour and added nutrients. There are so many other non-food ways to 'Nourish Yourself ' and we will be posting and blogging about them throughout the month.

Here is a short list of ideas:
• Head to the Spa! We are blessed with great options in our community ranging from the Le Nordik (chelsea.lenordik.com) to day spas like Oresta Organic Skin Care, Atlantis Spa and the Upkeep Shoppe.
• Get a massage! Massage is proven to help with everything from injury to anxiety and can be preventative as well as therapeutic. The newly opened Massage Addict in the 'hood' is worth checking out.
• Try something completely different! Visit the new flotation tanks at ISO Spa or the infrared saunas at Sage Wellness (sagewellness.ca) or the Atlantis Spa. Ever heard of Salt therapy? Spend 45 minutes breathing to improve everything from asthma to eczema at Salt Wave.
• Nourish your mind with spoken word, poetry, games, music & dance. Check out one of the many live music venues we have within a short walk of our community including House of Targ, Black Squirrel, and Irene's Pub. Visit Bywords.Ca website for a comprehensive list of events each month.

This month's recipes focus on basic items that you can use to make delicious meals, with a few suggestions included.


CHICKEN BONE BROTH

I want to share my trick for cooking a chicken and making broth at the same time. Doing it this way will give you enough chicken meat to enjoy in 2 or 3 meals, and some beautiful broth to use for soups, stews and sauces.
I also accumulate bones in my freezer and put them to use in this luscious stock. If I roast (or purchase) a whole cooked chicken I save the bones, freeze them, and add them to the pot when I have enough to make a big batch of stock. The more bones, the richer the stock.
INGREDIENTS
Whole Local Chicken (7-8 lb), Organic or Hormone & Antibiotic Free
Chicken bones, if you have them
1 Onion, peeled & quartered
1 head of garlic, peeled
1 medium carrot, peeled, large dice
1 celery stalk
1 thyme branch
2 bay leaf
1 teaspoon salt
DIRECTIONS
Cover the chicken with cold water in a large stainless steel stockpot and bring to a boil. Add any other chicken bones you have been saving. When the stock comes to a full boil, reduce the heat to a low simmer and skim off the grey foam that rises to the surface.
Add the onion, carrot, celery, thyme, bay leaf, and salt. Cook gently on a low simmer for 1 hour until the chicken is cooked.
Remove the chicken from the water and when it is cool enough to handle, remove
breast meat, thighs & wings. Put the carcass and the wings back in the pot and continue to simmer for another 2-4 hours, uncovered, until the broth tastes rich and is a light golden colour with about 2-3 litres of liquid remaining.
Strain through a fine-mesh sieve or a colander, lined with cheesecloth. Save any pieces of chicken and set aside. Allow the stock to cool completely; skim the fat and promptly refrigerate or freeze. You can now use your chicken stock, and some of your chicken meat to make a beautiful chicken noodle soup.
CHICKEN NOODLE SOUP
1 tablespoon butter
1/2 cup chopped onion
1-2 litres of your own home made chicken stock
200 grams of chopped, cooked chicken (breast or thigh)
1 1/2 cups of your favourite pasta (egg noodles, macaroni, fusilli or orzo)
1 cup of diced carrots
1 teaspoon of oregano, basil, thyme or savoury (or combination of 2 or 3)
Salt & Pepper to taste
DIRECTIONS
In a large pot over medium heat, melt the butter. Cook the onion and celery in butter for about 5 minutes, until just tender. Pour in chicken stock and stir in in chicken, noodles, carrots, basil, oregano, salt and pepper. Bring to a boil, then reduce heat and simmer 20 minutes (until pasta and carrots are tender) before serving.
MAPLE TAHINI DRESSING
This versatile dressing/sauce tastes great with just about anything. We have used it as a sauce for meat our poultry, but in a salad full of nourishing ingredients, this dressing is amazing.
INGREDIENTS
4 tablespoons tahini
1 1⁄2 tablespoons maple syrup
1 1⁄2 tablespoons lemon juice
1 clove garlic, minced
2 teaspoons apple cider vinegar
1 teaspoon olive oil
sea salt
freshly ground pepper
DIRECTIONS
Whisk all the ingredients together in a bowl and drizzle on your salad.
Our favourite ingredients for this salad are roasted sweet potatoes and eggplant, arugula or spinach, sunflower seeds or toasted nuts, and add beans, legumes or whole grains like quinoa or wild rice.