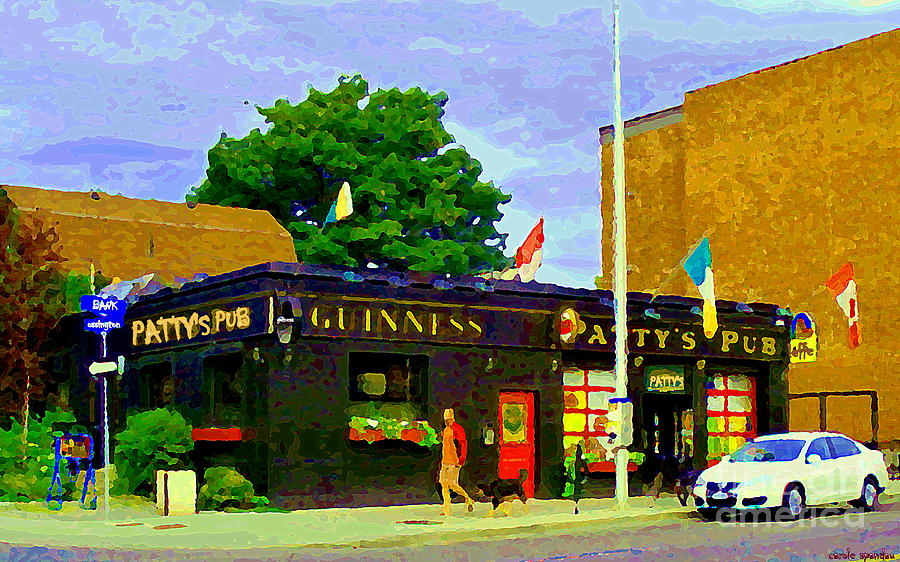 It has been very exciting to watch Old Ottawa South become a real foodie  destination over the last few years, and this spring some exciting things are happening!
After much anticipation, we see that Oat Couture has opened their oatmeal café at Bank and Glen. This concept shop celebrates all things made of oats and serves bowls, shakes, granolas, baked goods, coffee, tea and drinks. I popped in on the weekend for breakfast and had a truly spectacular coffee, and a delicious bowl of oatmeal with lemon curd and blueberries.
I am really excited about the opening of The Cameron at the Ottawa Tennis Club. The crew behind my favourite local hang-out – The Belmont – is opening from May 5 th through to September or October (weather depending) at the Tennis Club on Cameron Avenue. Not just for members, this new dinner spot will enjoy a beautiful view in a heritage building and promises to be a great spot to sip cocktails after a long, hot day. The menu will feature their twist on family friendly standards, including what promises to be a spectacular burger! Make sure you check it out soon and show your support for this little gem nestled on the river, next to Brewer park.
I have had a number of occasions to enjoy the new Korean chicken spot – Table Soda – at 1200 Bank Street. The food has been interesting and delicious. I will admit to being there on more than 4 occasions in the last 2 weeks.
In the not new but definitely worth a visit category we also have:
The Black Squirrel – I have enjoyed watching the evolution as they add a growing list of morning baked treats to their amazing coffee line-up, while expanding their list of evening activities & events. Pop in anytime from morning to late night.
Patty's Pub – I love the steak & fries, cooked to perfection, and Monday Burger Nights for a variety of creative burger toppings.
Panago Pizza – easy to order online, delivered to your door if you need, and topped with fresh ingredients, on a variety of pizza crusts.
Vietnamese Kitchen – my 'go to place' for Pho, especially when I am feeling under the weather, and the vegetarian Moo Shu Pancakes are delish!
Life of Pie – their breakfast biscuit with egg & sausage is just what you need after a night of too many cocktails at the Belmont.
The Belmont – where Sammy mixes a mean cocktail, while Adrian entertains you, and Phil makes sure you don't leave hungry!
Stella Luna – not just for gelato! On Monday through Thursday you can enjoy small (complimentary) bites with a purchase of a glass of wine between 5pm
and 7pm. How European is that!
House of Targ – for pinball, pierogies, and Sunday brunch!
All that plus a few more pubs, a couple of coffee shops, a pastry shop & Dairy Queen, you can be certain that the residents of our community will not go
hungry!
I have enjoyed many great meals at the Belmont and wanted to share a recipe inspired by one of those great meals. There are so many to choose from, but I have to admit that their Brunch dishes are especially spectacular. Simple, delicious and affordable, you can't go wrong with a good brunch and my favourite is poached eggs with hollandaise sauce on biscuits with a side of double smoked bacon.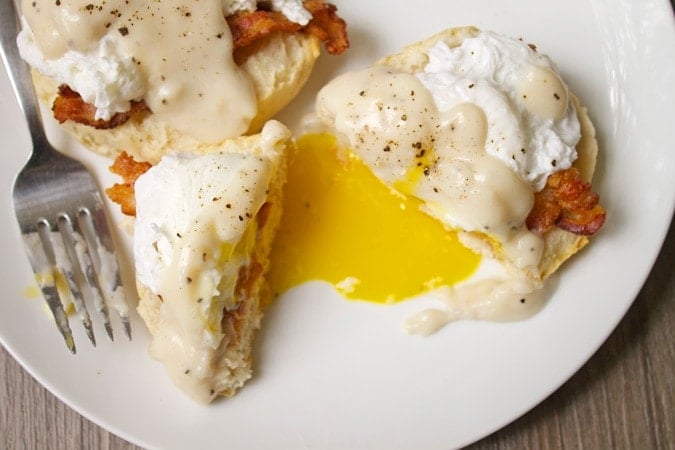 The Belmont Breakfast
Cheesy Biscuits
3 cups all-purpose flour, plus extra for dusting
1 ½ tablespoons of sugar
1 ½ tablespoons of baking powder
1 teaspoon salt
1 cup cheddar grated
8 tablespoons cold unsalted butter – diced
2/3 cups buttermilk
½ cup milk, plus more for brushing
Preheat your oven to 415 degrees F and line a large baking sheet with parchment. I like to use my Cuisinart (food processor) to make biscuits. It's quick and easy. Mix the flour, sugar, baking powder and salt in a bowl. Put the cubed butter in the food processer and add the flour mixture. Pulse until combined and you still have pea size nuggets of butter. Dump into a large bowl. Fold in the cheddar cheese. Mix the buttermilk and milk and fold into the flour mixture. Do not overmix.
We scoop the batter using a large ice-cream scoop onto the parchment lined tray and pat down to about 1 inch thickness. You can also roll onto a floured surface until one inch in thickness and cut into your preferred shape (square, triangles, circles). Place biscuits on the baking sheet and brush with remaining milk. Note: At this point you can freeze any biscuits you don't need on a flat tray, then bag them for later use. They bake beautifully from frozen.
Bake for 10-15 minutes until golden brown. If you are baking from frozen they may require another 5 minutes to cook thoroughly. Remove from oven and let
sit for 5-10 minutes and then enjoy!
Blender Hollandaise
Fill your blender with hot water and set aside.
Melt 1 ¼ cup of butter in a saucepan and remove from heat. Drain the blender and put 2 large egg yolks and 2 tablespoons of lemon juice in the blender. Cover and blend to combine.
Working quickly with the blender running on medium speed, remove the lid insert (or lid) and slowly pour the hot butter into the blender in a thin stream, discarding the milk solids in the bottom of the saucepan. Blend until a creamy sauce forms and season to taste with salt, pepper and lemon juice. Serve immediately.
Poached Eggs
Some people find poaching eggs a challenge, but poached eggs are my favourite to eat. Bring a small saucepan of salted water (at least 2 inches deep) to a strong simmer and drop in the eggs. You can find a million fancy ways of doing this (crack them into a bowl or ladle and slide them gently into the water) but I like to live on the edge and crack them right into the water. Be careful not to let any shell into the water and get in close to the water – don't drop them from 6 inches or you could break your yokes. They only take 2-3 minutes to cook, then remove with a slotted spoon.
Fry up some double smoked bacon (we love the Seed to Sausage variety) and serve the egg on the warm biscuit with a generous spoonful of hollandaise. It's delicious with a fresh salad with lemon and olive oil, or some sliced ripe tomatoes.