We hate to say it, but the dog days of grilling-in-the-sunshine are winding down. We've been putting our BBQ game into overdrive lately so we make the most of these beautiful, warm weather evenings spent celebrating the season with friends.

One of our favourite things to do is help our customers elevate their home-cooking experience easily and responsibly with our in-house and locally made products. Don't have time to make your own burgers? We got you covered with multiple types of Beef, Turkey and Lamb burgers. Looking to buy hot dogs that are made from local beef? We sell All Beef Wieners from Enright Cattle Co in Tweed, ON. Whatever you're in the mood for, whatever you want to create, we would love to help you feed your family the best! Today we wanted to focus on some classics and how you can take them up a notch.

How can you elevate the humble hot dog or hamburger? With ALL the condiments, of course. A burger is more than just meat and bun; it's an opportunity to get creative with toppings, find that perfect balance of sweet/salty/sour, experiment with flavours and texture to find your perfect BBQ burger or hot dog.
Here are just a few of our favourite burger varieties…
The Mediterranean

Start with our Quebec Lamb Burgers, cooked to 160 degrees F (70 degrees C) on the a hot grill, and top with our Chickpea Garlic Hummus, Glengarry chèvre, Sundried Tomatoes, Grilled Zucchini & Red Peppers and finish with our house-made Shallot Marmalade for the perfect sweetness to counter all those savory toppings.
The Classic

We love an original, but just because it's classic doesn't mean it has to be boring. Start with our Fitzroy Beef Patty, grilled on high heat to your desired doneness.Top with our house-made Dominion City Beer and Caramelized Onion Dip, Bread and Butter Pickles made by our canning-pro Margaux, Seed to Sausage Bacon, A pinch of Juniper Farms Traditional Saurkraut for some tangy fermented flavour that we love with he beer dip, a few sliced of garden tomato and a few pieces of our favourite cheddar, Iles Aux Grues. Pile it all on one of our Kaiser Rolls or some bread from our neighbours, True Loaf.
Asian-Inspired Turkey Burgers



If you love those tangy, balanced flavours perfected in Asian cuisine, let us help you re-create those flavours in a perfectly grilled turkey burger. Our patties are flecked with plenty of garlic, ginger and cilantro so you're starting off with BIG flavour. Grill your patty on both sides on a hot grill until a meat thermometer registers 165F. Top with Raon Kitchen Kimchi, some bok choy that's been gently sauteed in a little sesame oil, some thinly sliced avocado, some cucumber and extra cilantro if you love it like we do. Serve on an in-house Kaiser Roll.
The Crunch Dog
Hot Dogs can often get a rep for being boring. Wiener, ketchup, bun, done. Right? WRONG! Just like a burger, hot dogs offer apmple opportunity to have fun and get creative with toppings. One of our favourites? A handful of crushed up chips offer a salty kick AND a welcome crunch in what can sometimes be a soggy dog.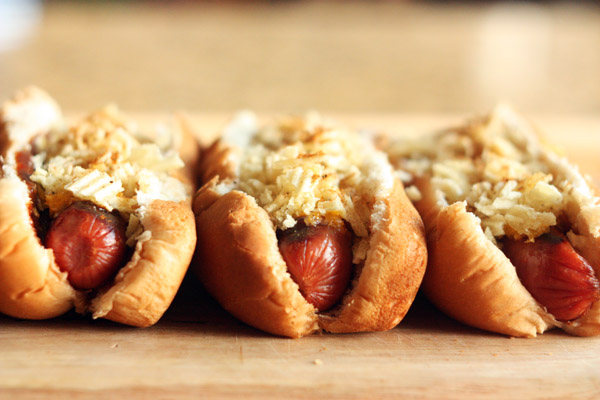 We like to start with a grilled Enright Cattle Co All-Beef Wiener tucked inside a lightly grilled bun. Slick the bun with one of our zingy mustards from Mrs. McGarrigle's in Merrickville, top with a few pinches of Juniper Farms Saurkraut and top with a handful of crushed Neil Brother's Pink Himalayan Salt chips.
Those are just a few ways you can create something new and exciting for your family that's quick and easy, healthy and local. But don't let those slow down your own creative process, the sky is the limit when it comes to burger and hot dog toppings. Get creative and Happy Grilling!
Save
Save